Have a day to fill? Some may call them lame duck school days. Others may just call them inconvenient. Whether it's because of a scheduling issue, a holiday, testing, or substitute needs, sometimes we all just need a one-day lesson plan!
That's what you'll find here. This post is a collection of some of our favorite ELA lesson plans to meaningfully fill one middle or high school school class period. These lessons and activities can…
stand alone
be the precursor to a future lesson
review skills you have already covered
support class or independent reading
It may help you to know that our classes are approximately 45 minutes long. Of course, discussions and extensions for these lessons can make them adaptable to longer time frames.
So, let's take a look!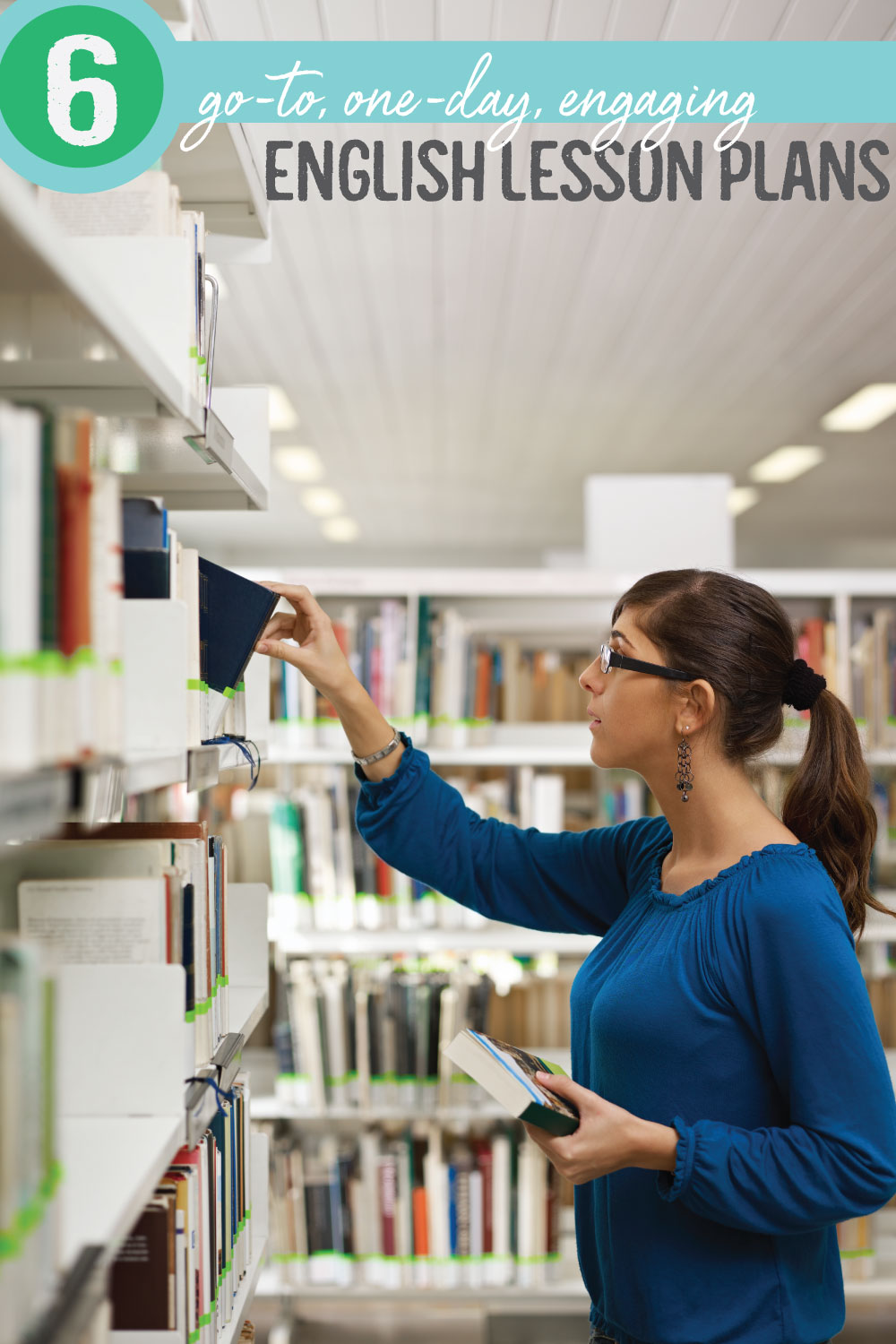 Lesson 1: The Writing Process
It never hurts to reframe the value of the writing process! But, what's better than doing it throughout the course of yet another project or essay? Emphasizing the value in just one day, of course!
One of the main advantages for teachers is that it drastically cuts down on the time you need to spend providing feedback. From the student perspective, they get to see the power of the writing process in one short sitting. In this format, students observe their rough draft of a sentence transform into something beautiful right in front of them.
This writing process lesson is the perfect one-day lesson plan for ELA. It's digital which means students can access it wherever they are. If you'd like students who are absent to make it up, no problem! And, it has embedded videos, so students can still get the reminders and instruction they need even if you can't be there with them.
Lesson 2: Media Literacy with Food Products
Students live in a digital world. Marketers advertise to them everywhere: through their phones, computers, and apps. Part of literacy is understanding intended audience, messaging, and delivery.
And? Students often understand all of those features. They are aware of advertisements and can often name different appeals—bandwagon, endorsements, and so on. All of that knowledge is great, but I like to take their understanding to a deeper level.
Students probably do not understand the purposeful marketing of food products—the very metal, paper, and plastic containers that hold their food. The Advertising of Food Analysis Activity asks students to look at actual food containers and evaluate their effectiveness and hidden messages. This perfect one-day activity for English has students analyze and evaluate real marketing campaigns helping them with their media literacy smarts.
Lesson 3: Vocabulary Activities for Any Word List
Whether you're teaching vocabulary from a story, using domain-specific or test-prep words, or allowing students to choose their own words from independent reading, having a toolbox full of engaging vocabulary activities is a game changer. Students learn vocabulary best when they have multiple, meaningful interactions with the word. I like to layer my vocabulary practice so students can think about them from a variety of angles and complexity levels.
A wonderful one-day lesson plan for ELA is vocabulary practice for any word list. This is PERFECT for those days when you just don't love the lesson you planned but need another day to put a new plan into action. This has happened to me many times! On the drive to work, I'll be thinking about the day and then – bam! I just need to pivot…but have no time.
This back-up plan is simple. All you need is words and this activity slide deck. The words you have students review can be…
words from a story
high-frequency words
test-prep words
It doesn't matter if the words are a current list! You can easily spiral in some review from previous lists, or allow students to choose new words from their independent reading. Once you have the words, introduce students to the activity, which has helpful examples to provide enough guidance for most students to complete the work with little support.
Lesson 4: Persuasive Techniques
As you teach language arts, you will inevitably teach ethos, pathos, and logos. English teachers cover rhetorical appeals with argumentative writing, public speaking lessons, and media lessons.
Why not devote an entire day to persuasive techniques?
Even if you are not currently teaching argumentative content, this ethos, pathos, and logos lesson will benefit your students. It contains:
Introductory concepts and definitions.
Real examples of ethos, pathos, and logos from commercials.
Lots of discussion questions—analytical and culminating.
A sort of topics for students to discuss the main focus of each topic.
Often, working through ethos, pathos, and logos can seem foreign to students. Once you show them with commercials that they see those concepts in practice daily, students will feel more confident in working with those techniques.
Lesson 5: Read and Respond
Sometimes, students just need a day to process what they are reading! There have been plenty of times I'm excited about the book I'm in the middle of reading but haven't had the opportunity to share about it with others. That's why I LOVE providing students who are engaged in independent reading programs the luxury of putting everything aside to discuss…books!
A super simple one day lesson plan for ELA is to have students chat and write about their current or most recent read. Start with some discussion questions for small groups. Students can easily group together based on interest, genre, or proximity in the classroom. (Task cards like this make the prompts easy to manage and add a higher level of engagement.)
Then, after about 20 minutes, have students respond to their reading. As always, students appreciate choice, so I try to pull a few journal options from this bank that I'd like them to pick from.
Having time to reflect on a good book, discuss it with others, and then process that experience in writing is therapeutic!
Lesson 6: Sentence Structure
Understanding sentence structure is a key part of any language arts class. An understanding of sentence structure not only helps with punctuation rules, but it also helps with diverse sentences in student writing.
However, most students have previously studied sentence structure forms and rules. They simply need a new approach to practicing sentences.
When students and I practice grammar with coloring sheets, students relax and have fun. Plus, they double-check their work from the sentences to the coloring sheet—extra practice with identification.
Finally, sentence structure coloring activities encourage review. After students practice, review the similarities between all the compound sentences (for example). Discuss the conjunctions and punctuation used. Encourage conversations about sentence structure that will carry over to writing lessons.
We hope these one day ELA activities are enough to keep your sub folder full and provide just the right buffer when you need one more day to iron out the kinks in your next amazing lesson! For more ideas, you can visit our lesson planning series, which features month-by-month ideas for teaching English Language Arts (see below).
---
Related Posts: