In May, not every student is motivated to work. (Shhh….neither is every teacher.) We have to be creative. Yet, we are so often tired that our creativity is running on E. Not to worry! In this post, you'll find 10 ways we can manageably engage students. Plus, some of these activities involve community and culture, both of which are so necessary.
Wonder Analysis
Whether you're trying to make time around testing meaningful or elevate thinking with a novel study, analyzing a movie can do the trick. One of my favorite movies to share with students is Wonder. It's great for sparking empathy, social emotional learning lessons, and decompressing after a day of testing. Use a movie guide to keep students focused.
Creative Writing
If you want to engage students and still meet a few more standards, try a few creative writing activities. Use pictures to inspire student writing that contains dynamic characters, settings, and conflicts. So often, student writing requires "corrections." With creative writing, students have time to explore.
Create a Thematic Playlist
Students LOVE music. I try to harness that passion into my end-of-year activities. Let students create a thematic playlist that consists of song that reflect their year…both the highs and lows. My favorite part is asking them to incorporate important grammar skills into their writing as a review.
Young Adult Literature
The end of the year is a beautiful time for adding a few young adult literature pieces to class. Read a few chapters of different books, and encourage students to borrow a book or two for the summer. A favorite of mine (and many students!) is Red Queen. You can download these free discussion prompts to embody a book club atmosphere.
Class Bookshelf
We work SO hard during the school year to cultivate a love for reading. I'd be remiss if, at the end of the year, we didn't take time for students to notice their growth. Download these TWO free resources to start some reflection and discussion today:
Media Literacy One Pager
Show students statistics and facts concerning the marketing budgets of food companies. Students probably do not realize the time, research, and money spent on acquiring them as consumers, but they should. With this lesson and one pager activity, students will learn about the language used to entice consumers concerning food products.
Course Reflection
When we ask students to reflect on our course, we are giving them a voice. I love reading students' responses to course reflection questions. I can see their individual personalities in their responses, note their growth as students, and obtain valuable feedback that helps me to improve as their teacher. Here are the questions I use with students to gain greater insights about their experiences.
Collaborative Writing
If you are in a digital setting, encourage students to collaborate on writing assignments through Google Slides. Share one of five slide presentations with students, and require ideas from each group. Students can contribute pictures, quotes, and ideas to build a bigger writing project. At the end, bring all of the slides together to showcase everyone's work.
Summer Reading List
We can't say goodbye to students without helping them set some summer goals as readers. Creating reading lists together is energizing and connecting. Plus, it motivates us when we are apart to know we are part of a community of readers.
Literary Analysis Alternative
Some classes need a scaffolded step before they jump into a literary analysis essay. This digital literary analysis activity allows you and students to focus on a few key points and then move to analysis. Ten questions are included, and as the teacher, you can decide when (and if!) students are ready to tackle them.
We hope this list of end-of-year activities inspires your teaching. Looking for more? We've written about this before! Find those ideas here and here.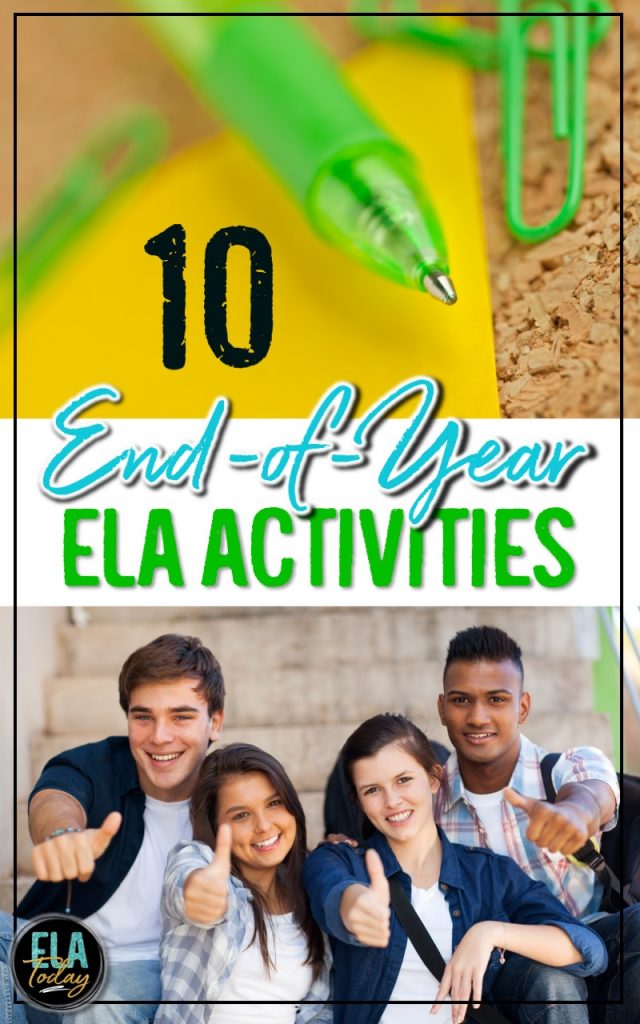 Are you looking for lesson plans for the entire year? We outlined our August-May plans for you!