What high interest books for reluctant readers will you stack in your classroom library? These middle school and high school books will engage students who claim that they dislike reading.
All secondary English teachers have heard it: I don't like to read.
We both believe that teachers can help students find a book to enjoy. Sometimes reluctant readers need a book that immediately grabs their attention, that quickly pulls them in.
Below, we've included ten books for reluctant readers. These have often worked for us.
All of the links are affiliate, links which means that we receive a small percentage from Amazon at no cost to you, should you choose to click through and purchase from here. Thanks for your support of this blog!
Now, the books for reluctant readers!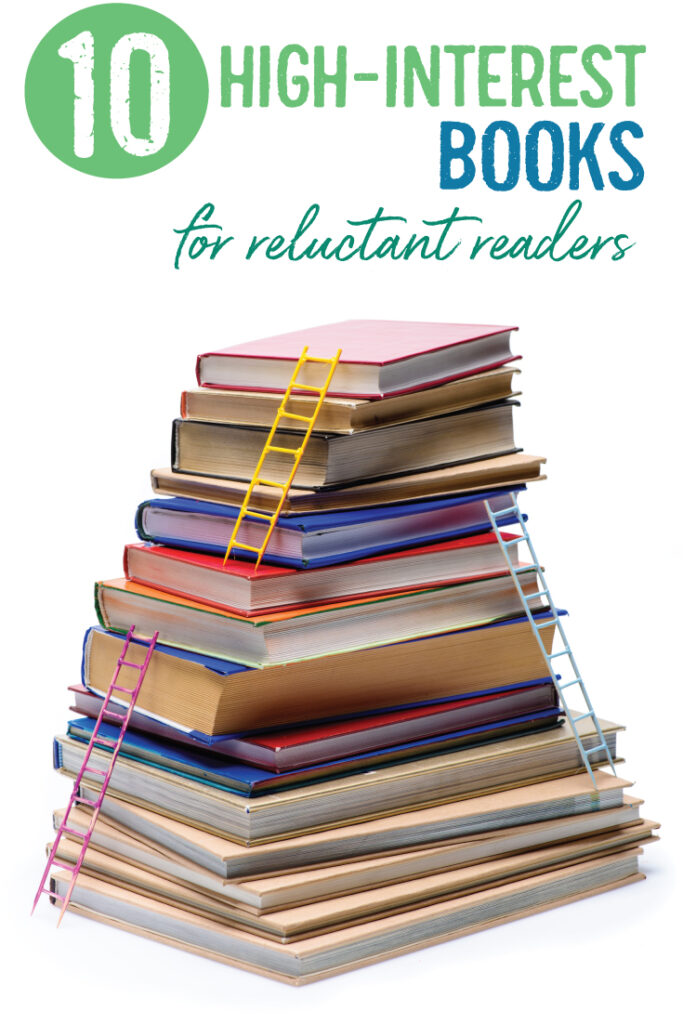 Eleanor and Park
Eleanor and Park by Rainbow Rowell might be my favorite piece of YA literature.
Eleanor moves to a new town. Her family life is unsafe, and she has little adult support. She wears odd clothes, and peers are cruel to her. She sits by Park one day on the bus, and they form a friendship that turns into a romance.
This book is not overly romantic. Most students enjoy this book because it lacks a fairytale ending.
Ghost Boys
The dedication of Ghost Boys reads, "Dedicated to the belief that we can all do better, be better, live better. We owe our best to each and every child." Goosebumps.
From page one to the very end, this book is one that tugs at your heart. Jewell Parker Rhodes uses this narrative to explore the issue of racial equality. Fast-paced with alternating points of view (Dead and Alive), students who are moved by current cultural issues will fly through this novel.
This book is geared for early middle school readers, but even as an adult, I couldn't put it down.
Teenie
My favorite part about Teenie by Christopher Grant is the authentic dialogue.
I think students can see through phony writing, and Teenie tells a story that resonates with teens. Martine earns excellent grades because she wants to study abroad. She has to balance her grades with friendships and crushes.
The storyline is not complex which really helps reluctant readers.
The False Prince
An ending you simply CANNOT anticipate. If there's a book that flies off the shelves faster than any other in our school, it's currently The False Prince.
Adventure, mystery, and royalty combine for the perfect storm of a high-interest plot line. One of the Nielsen's major accomplishments in this book is her ability to create characters that we both hate and love at the same time. They pull us in with an emotional connection yet keep us at an intriguing distance so as to protect the magic that is the unsuspected plot twist.
The emotional connection and the unusual storyline make this series irresistible.
The Hate U Give
I'm not sure I can write anything new about this dynamic piece of YA literature. The Hate U Give by Angie Thomas confronts police brutality through Starr's story.
Starr lives in a poor neighborhood but attends a wealthy prep school. She witnesses police shoot and kill a childhood friend. Suddenly, Starr has very important decisions to make.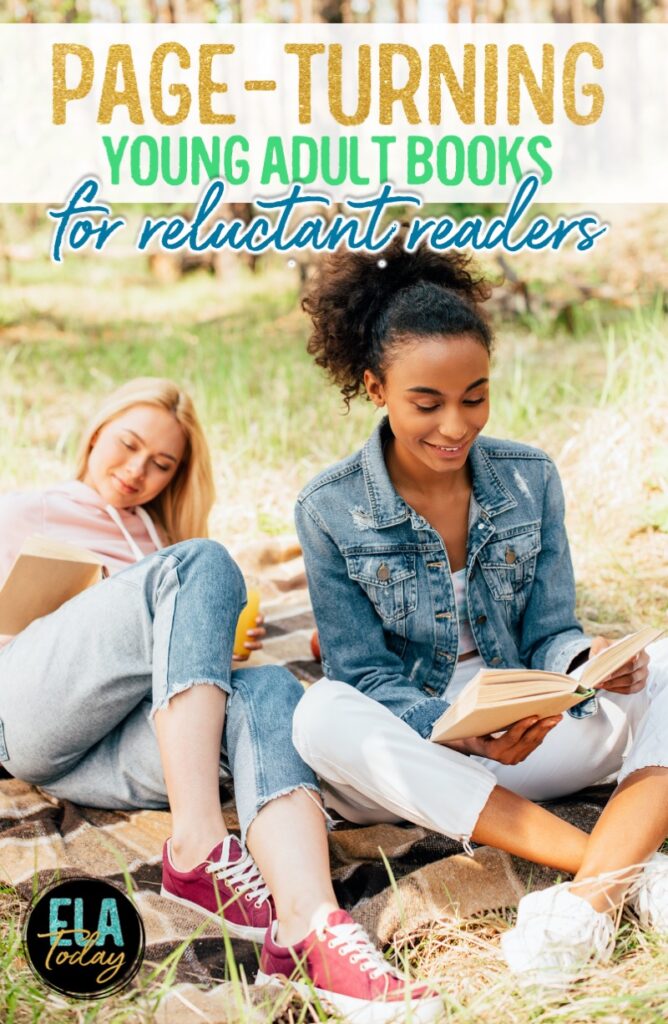 Blended
Do you have students who just don't feel like they fit in? Some might say that's middle school in a nutshell. In Sharon Draper's Blended, the main character feels caught between two lives.
She's half black, half white. Her parents are divorced, and she spends half of her life with her mom who has a modest home, and the other half with her dad who basically lives in a mansion.
As the story progresses, Isabella tires of feeling like she has two bookbags, bedrooms, families — two identities. Why does everyone always comment about how she doesn't look like either of her parents? Who is she really? This coming-of-age story will resonate with any teen who wrestles with belonging.
Frankly in Love
Frankly in Love by David Yoon is a straight-forward story. Frank Li is Korean, and his parents want him to date a girl from their circle of friends.
So, Frank fake-dates someone while he dates another girl. He helps his parents at their convenience store, wrestles with college decisions, and lies to his parents.
The book is not overly troublesome, but students do relate to some of Frank's poor decision making.
Smile
Many of my reluctant readers, including English Language Learners, have found success with Smile by Raina Telgemeier.
This story is true, based on a graphic memoir of the author's life, and full of embarrassingly identifiable moments in the life of a middle schooler.
Cover to cover, the main character's life spans from middle school to high school. She struggles with romance, finding real friends, and overcoming some ridiculous headgear that will put any braces-conscious tweens at ease.
Middle school students will love the beautiful visuals and humorous storyline.
The Grace Year
I reviewed The Grace Year by Kim Liggett because I loved the story so much.
Set in a dystopian future, Garner County fears young women. These vixens can lure men and to combat that, girls are sent away during their sixteenth year.
Not all of the girls will return because of the horror they endure for the year away from civilization.
Booked
What's better than enticing reluctant readers with…
male protagonists
athletic role models
relatable relationship and family struggles
a reading role model
???
Pretty much nothing! And, Kwame Alexander's novel Booked is written in verse, which makes it look much less intimidating. The number of words on each page is not overwhelming, but every single line packs a powerful, poetic punch.
My favorite part? Mini dictionaries are built into the bottom of each page to define flavorful vocabulary.
Having books for reluctant readers in your classroom is important. Not only can you connect with students who might not yet be readers, but you will also build a community that prioritizes literacy.
These ten high-interest books for reluctant readers will make for great independent reading choices, literature circles, or read alouds for First Chapter Friday.
We hope this draws some of your students closer to literacy. What books would you add to this list? Comments are welcome!